How to Control Oily Skin
Learn what causes oily skin, how to control oily skin and how to treat oily skin with natural home remedies and a healthy diet.
What is Oily Skin
Oily skin has a shiny appearance due to overproduction of sebum by the sebaceous glands. While sebum is beneficial for the skin because it acts like a moisturizer, excessive sebum combined with dead skin cells can clog and enlarge the pores, which causes blackheads and acne outbreaks. Excessive oiliness makes the skin look thick, coarse, dull colored and lacking suppleness and tenderness.
What Causes Oily Skin
The factors that affect the oiliness of the skin are: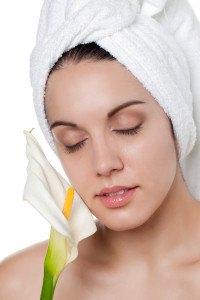 genetic predisposition
poor diet (red meats, fatty dairy products, hydrogenated oils, fried and sugary foods, soda, alcohol)
hormonal dysfunctions (endocrine disorders or hormone imbalances originated in puberty, menopause, andropause)
environmental factors (dirt, pollution)
various ailments (constipation, poor elimination of toxins through liver and kidneys)
stress (when under stress the body produces more androgen hormones which trigger excessive sebum production)
fatigue
poor sleep
use of cosmetics not suitable for oily skin
oral contraceptives
seasonal changes (humidity and hot weather)
How To Control Oily Skin
Oily skin is the ideal environment for dust and germs, therefore good hygiene is the first step in caring for oily skin. It is important to avoid touching the face with dirty hands.
Wash your face 2 times a day with lukewarm water (opens pores) and a mild cleanser soap for oily skin (removes sebum without irritating the skin), then rinse with cold water (closes pores to keep oil from clogging).
If necessary you can remove the oiliness during the day with blotting papers or medicated pads (with salicylic acid or glycolic acid).
Cleansers for Oily Skin
Instead of tap water use filtered water or cooled boiled water to which you add ½ tablespoon of lemon juice or sodium bicarbonate (baking soda).
A natural alternative to cosmetic cleansing foams and gels is egg white mixed with the juice of half a lemon and 15 ml camphorated alcohol, added drop by drop. Because lemon can cause sensitivity to sunlight you should use it only in the  evening and the next morning rinse your face thoroughly and use sunscreen before sun exposure.
Pat your skin dry using paper towels instead of cloth towels.
Avoid washing your face more than 2 times a day because frequent elimination of all oil increases the secretion of sebum and thus oiliness and shine.
Scrubs for Oily Skin
Exfoliating regularly, once or twice a week, with a gentle scrub is important in order to remove the dead cells and excessive oil from the skin. You can easily prepare your own homemade scrubs for oily skin using natural ingredients like oats, bran, cornmeal, honey, lemon juice, sea salt and sodium bicarbonate, which acts as an antiseptic to help prevent infections.
To avoid irritation of the skin never scrub too hard or for too long.
If possible, perform a professional cleansing of the skin once a month.
Lotions for Oily Skin
If after washing you still feel your face oily you can apply an astringent lotion containing salicylic acid or camphorated alcohol, which have antibiotic and antimicrobial properties.
Avoid alcohol lotions that are too harsh for the skin (the ones containing ethyl alcohol, ethanol – benzyl alcohol, methyl and isopropyl alcohol) because they excite sebaceous glands making them produce extra oil.
You can easily prepare your own lotions for oily skin from several plants in the form of infusions using thyme, plantain, lettuce, green tea, black tea, peppermint or lavender. Keep the lotion in a bottle in the refrigerator and apply on face for 5-10 minutes, letting it dry naturally without wiping it off.
You can also use apple cider vinegar mixed with water. Leave on for 10-15 minutes then rinse with cold water.
Herbal compresses with infusions of Morning Glory and Pansy give good results in combating acne. They heal and wipe off acne marks.
Face Masks for Oily Skin
One of the most effective ways to control oily skin is to apply regularly skin cleansing masks. Using a face mask once or twice a week will clean and refine your pores and prevent blemishes. You can easily prepare your own face mask at home with natural ingredients found around the house. Choose from these face masks for oily skin or, if acne is also a problem, from these face masks for acne and acne scars. Clay-based masks and especially green clay masks absorb the oil and cleanse the pores. Test as many as you can to see which ones have the best results on your skin and include the "winners" in your facial regimen.
Moisturizers for Oily Skin
A common misconception is that oily skin doesn't need moisturizing because the skin's natural oils are already acting as a moisturizer. While this is true to some extent, the reality is that through cleansing you remove most of the natural oils that your skin needs to stay supple and moisturizers help restore and replace these oils. If you don't moisturize then your skin will actually produce more oils in order to balance out.
There are some moisturizers out there that aren't great for oily skin because they can be heavy and make your skin feel even more oily/greasy throughout the day. However, they are also moisturizers that are suitable for oily skin. Look for a lightweight and non-comedogenic formula that won't clog your pores.
Adding essential oils to your face cream can help control oily skin and keep it moisturised at the same time. A great moisturizer for oily skin can be made by adding essential oils (5 drops of lemon, thyme, cedarwood, cypress or lavender essential oil) to 50 ml of cream. You can use this product every night.
To fight acne caused by oily skin combine 10 ml of carrier oil (like sweet almond, grapeseed, avocado or jojoba oil) with 2 drops lavender, 2 drops of lemon and 2 drops tea tree essential oil and apply it on the affected area once a day.
In the morning apply a light moisturizer for oily skin and then a mineral powder. Powders are necessary in caring for oily skin because they absorb the oil and make skin shine disappear. Mineral powder will absorb any oils on your face and leave your skin feeling fresh.
Makeup for Oily Skin
Don't use many cosmetics products at once and choose a special lightweight formula that is not greasy and does not cause blackheads and spots (oil free and non comedogenic).
Choose powder makeup over creamy and use oil-free sunscreen.
Oily Skin 
Remedies
To reduce sebum production you can apply freshly squeezed Aloe Vera gel to your face twice a day (morning and evening) right after you wash your face. Leave it on until it begins to dry, then rinse it off with lukewarm water. Aloe Vera contains salicylic acid, an aspirin-like compound with anti-inflammatory, analgesic, and anti antibacterial properties. Using Aloe Vera gel on a regular basis will help control oily skin and acne by unclogging the pores and removing dead skin cells.
An effective remedy for oily skin is cucumber. Grate a cucumber or mash it in a food processor until it forms a paste. Chill it in the refrigerator. Apply on face for 15 minutes, then rinse with cold water. For best results repeat the procedure twice a week on a previously cleansed skin.
Tomatoes are another great remedy for oily skin. According to experts, tomatoes dry out the glands that secrete sebum without dehydrating  your skin. Mash a tomato to get a fine puree and apply it to your face. Keep it on for 5-7 minutes and then rinse with warm water.
Healthy Tips To Control Oily Skin
Appropriate skin care is often not enough to control oily skin. Eating a healthy diet and making sure you provide your body with all the vitamins and minerals it needs play a key role in treating oily skin.
Diet for Oily Skin
Aim to consume as many vegetables as you can, especially green leafy vegetables (spinach, kale, lettuce, arugula, celery, leeks).
Fruit juices through the sulfur they contain help maintain a clean and healthy complexion. Always drink fruit juices and smoothies on an empty stomach, either in the morning or between meals.
Avoid strong tea, coffee, tobacco, alcohol and fermented beverages (beer, wine).
Eat only fresh foods and avoid cooking vegetables if they can be eaten raw.

Avoid white bread, pasta and bakery products. Choose rye or graham over wheat and practice portion control.

Avoid pickles, pepper, hot pepper, saturated oils and greasy foods.
Replace sugar with honey and avoid sugary drinks and treats.
Reduce salt as much as you can.
Completely eliminate canned food, cold cuts, smoked / fermented cheese.

Drink at least 8 glasses of water every day. Start your day with a glass of water with the juice of half a lemon. Fluids help remove the toxins from your body and improve your complexion.

Drink spearmint or nettle tea (at least one cup a day).
Try to fight constipation, which is a cause of acne. Proven natural remedies for constipation are castor oil and herbal laxative teas. You can also try a cure of dried apricots or prunes. Keep a few pieces of dried fruit in a little water over night and in the morning eat them on an empty stomach. An hour later drink a lemon or orange juice.
Vitamins for Oily Skin
Vitamin A
B-complex vitamins
Vitamin C
Vitamin D
Vitamin E
Supplements for Oily Skin
Rhodiola Rosea
Agnus Castus
Siberian Ginseng
Zinc
Saw Palmetto (for excessive androgens which is a cause of oily skin)
Don't start taking everything at once – give it a week or two before you add the next thing so if you have a reaction, you know where it's coming from.
Try to incorporate these practices into your skin care routine and eventually you will be able to control oily skin and enjoy a  healthy, glowing skin!