Gluten Free Pizza Recipe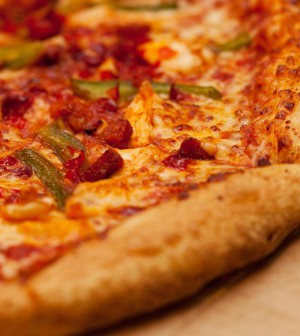 Are you in the mood for pizza but gluten intolerant? No problem! Try this simply delicious gluten free pizza recipe that will thrill your eyes and satisfy your taste buds!
Gluten free pizza – ingredients:
oil, for greasing
450g (1lb)

gluten free white bread flour blend

 plus extra for dusting
1 tsp xanthan gum
2 tsp fast-action dried yeast
2 tsp caster sugar
1 tsp salt
2 tbsp olive oil, plus extra to drizzle
300g (10 oz) mozzarella cheese, drained and torn into pieces
a few black olives
basil leaves
Gluten free pizza – tomato sauce ingredients:
2 tbsp olive oil
1 small onion, finely chopped
2 garlic cloves, crushed
400g can cherry tomatoes
1 tbsp tomato purée
1 tsp dried oregano
pinch of salt
salt and freshly ground black pepper
Gluten free pizza – preparation:
Lightly oil 2 baking sheets. Sift the flour, xanthan gum, yeast, sugar and salt into a large bowl. Combine 300ml (10 fl oz) warm water, the egg and 2 tablespoons oil in a jug and whisk with a fork. Make a well in the center of the dry ingredients, add the wet ingredients and mix well to form a dough. Turn the dough out onto a floured surface and knead for 5 minutes until smooth. Return the dough to a lightly oiled bowl and cover loosely with oiled cling film. Leave in a warm place to rise until doubled in size, about an hour.
For the tomato sauce, heat the oil in a medium pan, add the onion and sauté over medium heat for 5 minutes. Stir in the garlic and cook for 1 minute. Add the remaining ingredients and simmer, uncovered, for 10 minutes. Set aside.
Preheat the oven to 230°C (450°F/Gas 8). Knock back the dough, divide into 2 balls and roll each out to a large circle. Place on the baking sheets. Divide the sauce, mozzarella and olives between the pizza bases. Season with black pepper and drizzle over a little oil. Bake for 10 minutes or until golden. Scatter the basil over each pizza and serve.
Gluten free pizza topping ideas
If you prefer you can use different toppings with this basic gluten free pizza recipe: spinach and ricotta, sliced mushrooms and Parma ham, pepperoni and chilli, sprinkled with rocket after baking. Just keep in mind that – when it comes to pizza toppings  – less is more. Don't overload your pizza and keep combinations simple.
Gluten free pizza nutritional info (per serving):
Energy: 759 kcals/3190kJ
Protein: 28g
Fat: 32g
Saturated fat: 13g
Carbohydrates: 89g
Sugar: 9g
Fiber: 6g
Salt: 1.9g