Best After Sun Lotion Recipes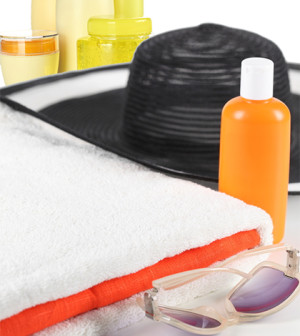 Make your own after sun lotion to treat or prevent the unpleasant consequences of sun exposure and enjoy smooth, glowing skin for the rest of the summer!
After a long day in the sun, your skin needs some extra attention in order to restore its health and radiance. Immediately after being exposed to the sun, you should apply cold compresses to the skin or take a cool bath, and apply an after sun lotion.
After sun lotions heal the heat damage/shock done to the skin by extensive sun exposure, cool and refresh the skin, soothe and moisturize sunburned skin. Even if you don't get sunburn, after sun lotions counteract skin dryness and tightness, prevent skin peeling and highlight your tan, helping you keep it for longer.
Let us see, then, what after sun lotion recipes and other homemade natural beauty treatments can help you restore your skin's freshness and glow!
Pure Aloe Vera Gel for Sunburn Relief
Ideally you should always do your best to avoid sunburn in the first place by using a good natural sunscreen, but if the damage has been done you can rest assured that aloe vera gel will benefit your skin immensely if you act fast enough and prevent further damage.
Sunburn is considered a first degree burn or a minor burn where only the outer skin in damaged. Research has shown that aloe vera aids the skin in healing from sunburns and mild burns. It contains anti-inflammatory compounds that reduce swelling and allows healing to begin. In addition, aloe vera oil can moisturize the skin, helping you avoid the peeling normally associated with sun damage. However, aloe shouldn't be used on severe burns, so check with your doctor if you're worried your sunburn may be severe.
You can buy gels or lotions that contain aloe vera at most stores, or you can cut a chunk off the plant itself if you have one available.  The fresher aloe vera gel you use on your sunburn, the sooner your sunburn will heal.
You can place the aloe vera gel in your refrigerator a few minutes before applying it to immediately cool the skin. With the tips of your fingers, gently apply the aloe to your sunburn. Don't rub it in all the way, like you might with a regular lotion. Leave it a bit goopy and moist on top of the burn, as this helps prevent the skin from drying out and becoming more irritated.
Once applied, the gel has a rapid cooling effect and forms a protective layer over the burn, reducing the risk of infection. Reapply as often as necessary.
To help heal faster you can also drink fresh aloe vera gel mixed in water. Because of its remarkably high nutritional content, aloe vera can boost your immune system, which promotes rapid recovery for your entire body. This helps reduce peeling and any scarring that you may incur as a result of your burn.
Aloe Vera After Sun Lotion
This intensely hydrating, quick-absorbing face and body after sun lotion is packed with natural aloe vera and vitamin E, which quickly deliver a lot of moisture to skin. In case of sunburn, this after sun lotion relieves the pain and redness and helps the burn heal faster.
Ideal for skin that is gets easily sunburned.
Ingredients:
2 tablespoons pure aloe vera gel
Organic aloe vera gel reduces sun-induced signs of irritations and brings immediate relief to the skin, cools your skin and prevents skin peeling. Rich in vitamins C, E, zinc and antioxidant enzymes, alove vera gel enhances the immune system of the skin and reduce the visible signs of aging.
2 tablespoon chamomile oil
Chamomile oil soothes redness and irritation and diminishes scars, marks and spots on the skin and on the face.
2 tablespoon evening primrose oil
The oil extracted from evening primrose seeds is very gentle to the skin and is added for its moisturizing properties.
1 tablespoon avocado butter
Avocado butter deeply moisturizes the skin and alleviates the burning sensation.
Vitamin E helps heal sunburn damage and shorten its effects, and prevents premature ageing.
Directions:
Place the oils and the avocado butter in a double boiler (or in a non stick pan over very low heat) and stir slowly until they melt and mix.
Remove from heat and let cool to room temperature.
Place the oils and the fresh aloe vera gel in a food processor or blender and blend on a medium speed.
Add the vitamin E oil and stir until combined.
The resulting after sun lotion should be stored in a tightly sealed container and refrigerated.
Usage
Use this after sun lotion daily, once per day, after showering.  If your skin is very dehydrated, apply 2-3 times per day.
Moisturizing After Sun Lotion with Herbal Tea and Essential Oils
This ultra-moisturizing and deep-soothing after sun lotion will leave your skin soft and smooth. Although it can be used as a face and body lotion on a regular basis all year round, it is especially recommended after prolonged sun exposure. It instantly provides smoothness, freshness and comfort even to very sensitive skin.
Ingredients:
Chamomile oil soothes redness and irritation and diminishes scars, marks and spots on the skin and on the face.
Gentle, cooling, and soothing, calendula oil is the most successful oil for assisting us with dry and damaged skin, sunburn, skin inflammations and rashes.
2 tbsp St. John's Wort oil
Due to its cell regenerating characteristics, St. John's Wort oil rapidly heals sunburn, removes blemishes on the skin, and contributes to the formation of a spotless, smooth and radiant skin.
High in vitamin E – which has been proven to help with skin renewal and repair – cocoa butter moisturizes and repairs sunburned skin effectively, leaving your skin soft, supple and glowing.  At the same time, cocoa butter boosts collagen density, improves skin elasticity and tone, and heals the harm done from sun exposure.
2 tbsp beeswax (trimmed or pastilles).
Its main role is to thicken the lotion, but beeswax also contains vitamin A, which may be beneficial in softening and rehydrating dry skin and in cell reconstruction
Rose water is a great natural treatment against the harmful effects of sun on your skin. It helps in healing the redness of the skin and prevents any heat rashes or irritation.
4 tbsp herbal tea (eucalyptus & sage)
This tea has a soothing cooling effect, and reduces the redness of the skin caused by sunburn.
3 drops lavender essential oil
Lavender essential oil removes the sting and heat from the sunburn and can help prevent skin blisters.
3 drops frankincense essential oil
Frankincense is an excellent oil for over-exposed skin. It soothes redness and even works to lessen sun damage whether over-exposed from a quick sunburn or years of too much sun.
3 drops Helichrysum Italicum essential oil
Helichrysum oil has superb anti-inflammatory, anti-oxidant, anti-microbial and regenerating qualities. It assists in the healing of sunburn, scars, acne, and fights skin aging. The Helichrysum Italicum essential oil is non-toxic, non-irritant and non-sensitizing, however it should not be used on children under 12 years.
Directions:
Place the oils, the cocoa butter and the beeswax in a double boiler (or in a non stick pan over very low heat) and stir slowly until they melt and mix.
In a separate pot, bring to a boil a cup of water, add 2 tablespoons of dry eucalyptus leaves and 2 tablespoons of dry sage and let simmer for 8-10 minutes.
Take 4 tablespoons of this decoction and mix with one tablespoon rose water.
Remove the oil mix from the heat and add the rose water and herbal mixture, one tablespoon at a time, stirring constantly. Let cool to room temperature, then add the essential oil and stir until combined.
Keep in a dark colored glass jar.
After Sun Lotion with Olive Oil, Almond Oil and Eucalyptus Essential Oil
Ingredients:
2 tbsp olive oil
2 tbsp almond oil
3 drops eucalyptus essential oil
Directions:
Place the oils in a cosmetic spray bottle and shake until mixed.
Apply all over your skin just like you apply your regular moisturizing lotion. Don't wash it off.
After Sun Body Lotion – General Recommendations
After sun exposure, the skin needs more hydration and nourishing to regain its balance. You should apply these after sun lotions several times daily to keep your skin moisturized , reduce the risk of peeling and make the tan last longer.
Always apply your after sun lotion after showering, NOT on top of your sunscreen. Use a generous amount of after sun lotion throughout the body, to cool the skin and gain a healthy glow.
In the evening, the delicate facial skin needs special care. During the summer months it is advisable to replace the usual night cream with an after sun face lotion, which nourishes, hydrates and regenerates the skin.
Just be sure to dab some on your wrist and wear it for a day to make sure you don't have an allergic reaction, especially when using organic ingredients.
Warning
Severe sunburns may warrant more than after sun lotions – they may require a physician's attention. If your sunburn covers a large portion of your body and is developing into blisters, is accompanied by a fever or does not subside within a few days, seek medical attention.
After Sun Special Care for Face & Hair
Make and apply your own natural face masks
Natural face masks are an excellent way to maintain beautiful skin. Facial masks draw impurities out of the skin, exfoliate dead skin cells and unclog pores, clear up acne  and prevent new flare–ups from occurring, moisturize and nourish the skin. Face masks also help stimulate blood circulation and leave your skin feeling smoother and softer.
Depending on your skin type and the ingredients you have on hand, you can easily make one or more of the following natural face masks:
If you have oily skin, see also this detailed guide about caring for oily skin.
Face masks for acne and acne scars
Avocado face masks (for all skin types)
Apply a deep conditioning hair treatment to prevent damage caused by sun, wind, chlorine and salt water
Your hair also needs special care during the summer months. Once a week (or more often, if time permits) apply one of these regenerating and moisturizing hair treatments.