25 Homemade Face Masks for Dry Skin
1. Homemade Face Mask for Dry Skin with Egg Yolk, Honey, Lemon, Almond Oil and Lavender Essential Oil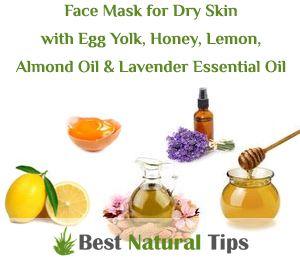 An ideal face mask for mature, dry and atrophic skin (skin that is thin and wrinkled).
Ingredients:
1 egg yolk
1 tsp. honey
5 drops of lemon juice
1 tsp. almond oil
10 drops of lavender essential oil
Directions:
Mix all ingredients together until they form a smooth paste.
How to use it
Apply to face and neck, carefully avoiding the eye area, and leave it on for 20 minutes. Rinse thoroughly with lukewarm water and apply a moisturizer for dry skin.
Use this face mask for dry skin once a week, preferably in the evening because the lemon juice makes skin more sensitive to sunlight.